Whitefish, Montana has been named one of the top ten "Coolest Small Towns in America" in a current issue of Arthur Frommer's "Budget Travel" Magazine. Whitefish was one of ten towns with populations of fewer than 10,000 selected by the editors of the magazine as the coolest places to be seen. Yanina Erman, account manager for Workhouse Publicity in New York, reports that in order to be considered the coolest, a town had to have three specific markers. (1) Produce a good cup of coffee and serve excellent food (2) Have more art galleries than country stores; more people than cows and (3) Have people who leave for the big city and realized they've made a mistake and want to go home! "Budget Travel" editors published the readers' vote in the spring and then chose towns they had collectively visited for the list published in the October issue. The magazine is distributed on a national level and certainly people will take notice of this when they're deciding where they're going to stop on a trip through Northwest Montana.
Whitefish, Montana is a thriving ski and golf resort community nestled next to beautiful Whitefish Lake and located 25 miles from Glacier National Park. Whitefish is one of the best mountain towns in America as it offers immediate access to Big Mountain Resort, Flathead National Forest and Flathead Lake. Residents enjoy breathtaking vistas with pristine mountain lakes, wilderness areas, blue ribbon trout streams, world-class hunting, fishing, snowmobiling, and skiing.
Thirty minutes to the south is Flathead Lake - a glacial jewel - the largest natural freshwater lake west of the Mississippi, and one of the purest anywhere. Encompassing the valley is the 85,000 residents where they find plenty of elbow room. The Flathead Valley climate is akin to Camelot. Whitefish enjoys a relatively mild climate: glorious summers with warm days and cool nights and little humidity; golden autumn days turning crisp by late October; winters made for skiing, snowboarding, and ice fishing; springs with daffodils dusting the valley while fresh snow dusts the surrounding peaks - an extraordinary season when you can ski and golf - in the same day!
High mountains to the east and west protect us from harsh extremes. The valley's many lakes and rivers also tend to moderate temperatures winter and summer. The weather ranges from moderately dry summers with typical daytime Fahrenheit temperatures in the 80s, Indian Summer days in the early fall, and moderately wet winters and spring. Daytime winter temperatures are in the 20s and 30s, with plenty of snow for winter recreation. While the Flathead Valley floor averages about 3,000 feet, the highest mountain peaks rise to more than 10,000 feet above sea level.
Art is one of the main attractions our valley has to offer. The area attracts and supports more than 2,000 artists and craftspeople, whose work can be seen in studios, galleries and festivals. Theater, dance and live music enjoy enthusiastic audiences. From outdoor symphonies and concerts in the parks to intimate venues and clubs, the variety of entertainment choices is endless. Whitefish offers infinite vistas with 360 degree views of National Glacier Park in addition to the Swan and Mission ranges of the Rockies. Its thriving economy and exhilarating community of friendly residents who take great pride in their home, are a few of the many reasons why the quality of life here is exceptional - and why the Flathead's unparalleled beauty is treasured by all who live here. Whether you're buying or selling, feel free to contact me and I will be happy to help you with all your real estate needs.
Buyers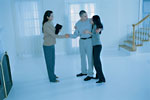 Whether you're looking for your first home, your dream home or an investment property, I'm committed to providing you with the highest quality buyer service. When making the type of investment that buying a home requires, you deserve to have all the latest market information and the very best advice, both of which I can provide you with. Read more.
Sellers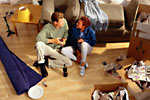 The decision to sell a home is often dependent on many factors. Whatever your reasons are for selling, my proven effective marketing strategies will ensure that you get the highest possible price for your home. I guarantee to provide you with professional, ethical and confidential service and keep you fully informed every step of the way. Read more.